Our Teachers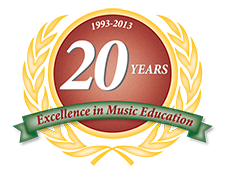 The Music Learning Center teachers are highly trained professionals who love what they do. Each instructor takes great care to insure that our student's receive the best instruction possible, and that they have fun while they are learning.
Training:All of the instructors are university and conservatory trained and many have advanced degrees in music performance and music education. They have attended highly respected colleges of music such as The Juilliard School, Eastman School of Music, Western CT State University, the Moscow State Institute of the Arts, Cleveland Institute of Music and SUNY at Purchase. They keep up to date on the latest methods and materials so that students can progress quickly and enjoy their practicing.
Experience: Instructors at the Music Learning Center have a minimum of four years, and an average of 20 years of teaching experience. Most are active performers and have appeared in national and local symphony orchestras, jazz festivals, concert halls, local jazz and rock clubs and cabarets. Some have traveled throughout the US and in Europe as performers while others have either won competitions, or been the recipients of prestigious national and local awards.
Affiliations: Many of the teachers participate in professional organizations including the Connecticut State Music Teacher's Association (CSMTA), the Connecticut Music Educators Association (CMEA), the Jazz Education Network and the American Bach Society. The Music Learning Center is an institutional member of the Music Teacher's National Association (MTNA) and the Housatonic Valley Cultural Alliance.
A Note from the Director…..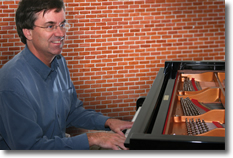 In order to select the right teacher for your child, or for yourself, it is important to be aware of the many different instructional approaches and methods that are available. With the assistance of our knowledgeable staff you may choose from 25 highly trained instructors. This allows for you to be assured of finding just the right teacher. While each of the instructors are talented and caring individuals, experience has taught us that by carefully considering each student, together we can arrive at a placement that will afford the best opportunity for personal fulfillment and success. Many of our students have gone on to have professional careers in music, and countless others have gotten off to the start with us that insured they will enjoy music for the rest of their lives. Our goal is to offer placement with an instructor who is best suited to help the student progress quickly, while having a lot of fun along the way! Give us a call so that we can begin to find that perfect match for you too.
Musically yours,
Jeff McGill, Director
Would you like to learn more about our teachers?
Click HERE to request a copy of our Faculty Roster which includes an individual bio for each instructor.
Serving towns in northern Fairfield County and Litchfield County, Connecticut – including: Danbury, Bethel, Brookfield, New Fairfield, Ridgefield, Newtown, Redding, Roxbury, Bridgewater, New Milford and Sherman. Serving towns in Putnam County, Duchess County, and northern Westchester County, New York – including: Brewster, North Salem, South Salem, Carmel, Cross River, Bedford, Lewisboro, Purdy's, Golden's Bridge, Katonah, Mahopac, Lake Carmel, Lake Mahopac, Southeast, Salem, Croton Falls, Patterson, Pawling and Waccabuc.