Choosing the Right Teacher
The Music Learning Center's staff of 25 professional music teachers offer individually tailored lesson programs for most instruments and voice. The MLC office staff can help match each student with an experienced teacher. The Music learning Center considers each of the following before recommending a lesson schedule.
Student age
Student's musical experience (beginner to advanced)
The musical style(s) of most interest to the student
The teaching method best suited to the student
A student's preferred day(s) and time(s)
A Good Place to Start – Introductory Lessons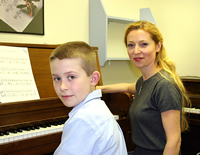 An Introductory Lesson is available to each new student at the special rate of just $25. An Introductory Lesson is 30 minutes long and allows for the student and/or parent to see the instructor's teaching style and approach first hand. The MLC office will then call the student or parent the next day to answer any additional questions they may have. The student can then complete their registration at that time. Call our office to sign up for your introductory lesson now!
Click Here to Submit a Registration Request Form
Serving towns in northern Fairfield County and Litchfield County, Connecticut – including: Danbury, Bethel, Brookfield, New Fairfield, Ridgefield, Newtown, Redding, Roxbury, Bridgewater, New Milford and Sherman. Serving towns in Putnam County, Duchess County, and northern Westchester County, New York – including: Brewster, North Salem, South Salem, Carmel, Cross River, Bedford, Lewisboro, Purdy's, Golden's Bridge, Katonah, Mahopac, Lake Carmel, Lake Mahopac, Southeast, Salem, Croton Falls, Patterson, Pawling and Waccabuc.