Trumpet, French Horn, Trombone & Tuba Lessons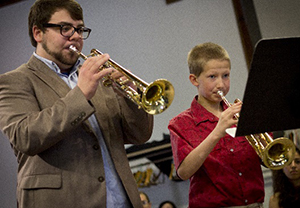 Our brass lessons include private trumpet lessons, french horn lessons, trombone lessons and tuba lessons.  Students for these instruments usually are ages 9 or older as they need to have developed sufficient lung capacity. Our brass teachers have university or college degrees in music and are active performers in a variety of settings. We can help students enhance their instrumental skills for greater success in their school band program, or to help develop advanced skills as a soloist. Contact Us Now for More Information.
Serving towns in northern Fairfield County and Litchfield County, Connecticut – including: Danbury, Bethel, Brookfield, New Fairfield, Ridgefield, Newtown, Redding, Roxbury, Bridgewater, New Milford and Sherman. Serving towns in Putnam County, Duchess County, and northern Westchester County, New York – including: Brewster, North Salem, South Salem, Carmel, Cross River, Bedford, Lewisboro, Purdy's, Golden's Bridge, Katonah, Mahopac, Lake Carmel, Lake Mahopac, Southeast, Salem, Croton Falls, Patterson, Pawling and Waccabuc.