Suzuki ® Piano or Violin Lessons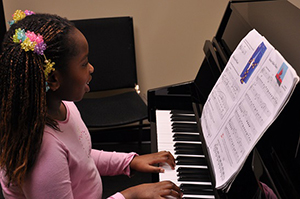 Located Danbury, CT and just minutes from Ridgefield, Bethel, New Fairfield, Brookfield, Newtown, and Brewster, NY our school offers the highly regarded Suzuki method of instruction is particularly suitable for the very young child and it emphasizes the parent's role in supporting the students' learning. No previous experience is necessary for the parent. "The mind has the ability to begin learning anything at a young age. The younger one starts, the earlier the mind is capable of learning quickly." - Dr. Shinichi Suzuki. The Suzuki Method is learning through hearing. By listening to recordings of music and repeating those passages on their instrument, the student learns each piece. Once the child learns a certain passage, they progress to the next step, where the "listen -play, listen - play" process is repeated. Suzuki training is partly parent training. The Suzuki parent becomes the child's at-home teacher. Six days a week, the parent teaches the child at home. On the seventh day, parent and child come to the teacher for a lesson, and for direction on how to begin the next week's work at home. The parent and teacher together guide the child's progress. Through their concerted efforts the child's success will be realized. Note: Space is limited for this program. Please contact the MLC office for details.
Some of the basic principles and ingredients of the Suzuki approach...

Serving towns in northern Fairfield County and Litchfield County, Connecticut – including: Danbury, Bethel, Brookfield, New Fairfield, Ridgefield, Newtown, Redding, Roxbury, Bridgewater, New Milford and Sherman. Serving towns in Putnam County, Duchess County, and northern Westchester County, New York – including: Brewster, North Salem, South Salem, Carmel, Cross River, Bedford, Lewisboro, Purdy's, Golden's Bridge, Katonah, Mahopac, Lake Carmel, Lake Mahopac, Southeast, Salem, Croton Falls, Patterson, Pawling and Waccabuc.